Mr. Yousef bin Ahmed Al-Kuwari

Chief Executive Officer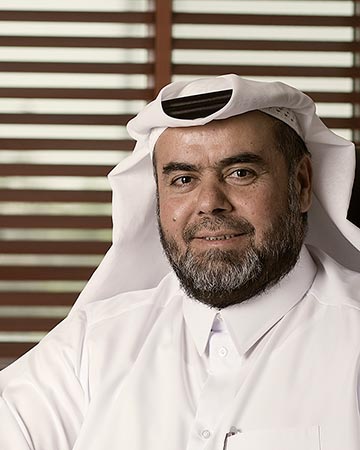 Mr. Yousef Al-Kuwari holds a bachelor degree of Business Administration in Information Technology from the University of North Carolina in the United States of America. Serving as a director of Information Technology, he contributed to the digital breakthrough in the ministries and governmental institutions in the State of Qatar. Through the establishment of the early models of electronic systems, Mr. Yousef Al-Kuwari led the digital transformation of ministries and governmental bodies, which was later on adopted by all governmental entities.
In 2011, he was appointed CEO of Qatar Charity, as he managed to develop internal policies and regulations in accordance with the highest international standards, and apply best financial, technical and quality control practices. Being keen to strengthen international partnerships, Mr. Al-Kuwari has signed nearly 100 international partnership agreements with the United Nations and other international and regional humanitarian organizations.
With more than 25 years of experience in the humanitarian action and advanced technologies, Mr. Al-Kuwari has contributed to establishing one of the cutting-edge systems in the humanitarian work area, which enabled Qatar Charity to obtain the ISO / IEC 27001: 2013 certificate in information security. Due to his outstanding achievements in the sector of humanitarian action, Mr. Al-Kuwari received many awards, such as The UNESCO Science Prize by the UN at the World Humanitarian Summit 2016.
Focusing on various areas of humanitarian interventions, Mr. Yousef has successfully increased the number of projects carried out by Qatar Charity annually by more than 200% compared to previous years. He has succeeded to increase the number of beneficiaries to 7 million people per year, while Qatar Charity proudly now -under its child care program- supports more than 150,000 children across the globe. Under his leadership, Qatar Charity's field outreach has expanded to 28 regional offices throughout four continents. Mr. Yousef Al-Kuwari has dedicated time, money and expertise to rank Qatar Charity amongst top NGOs in the region and the world. As a result, it has developed more than 50 innovative channels of fundraising which have increased Qatar Charity's annual donations by more than 400%.